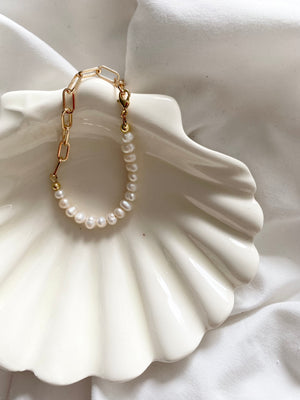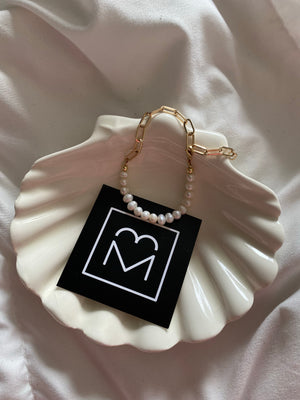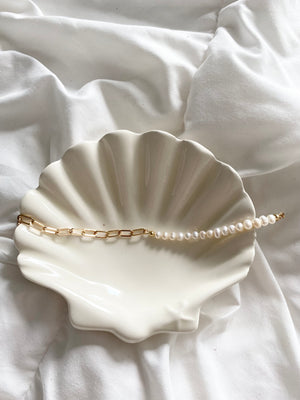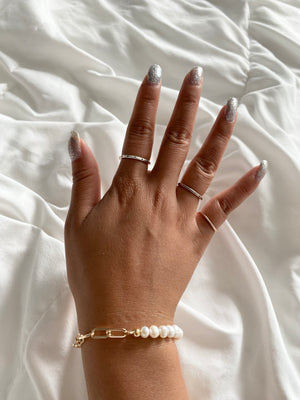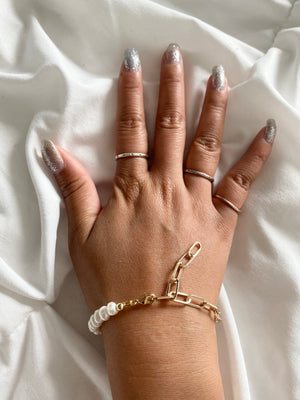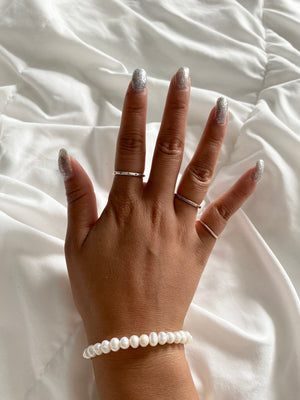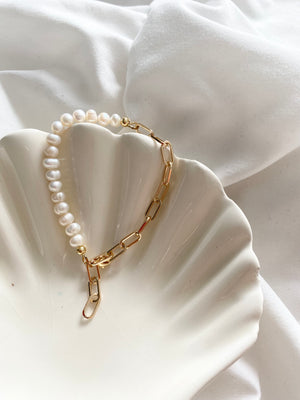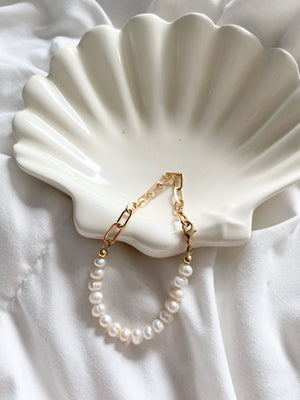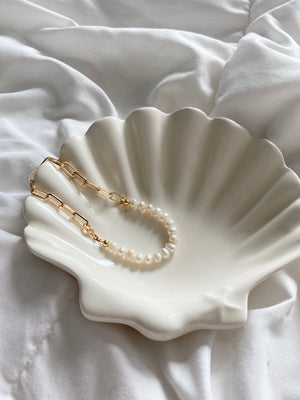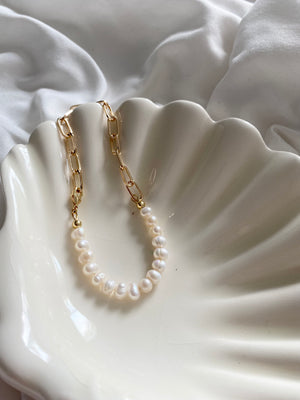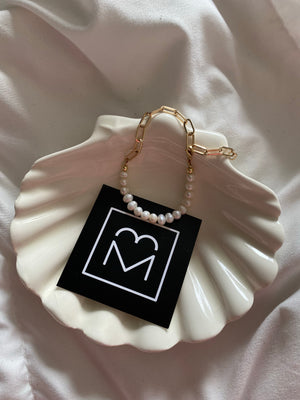 Mia bracelet
Turquoise's Treasures x Mbeadsjewelry
Part of my new Turquoise's Treasures Self-Care Collection | Collection Bien-Être de Turquoise's Treasures
*NOW IN STOCK - CAN SHIP/DELIVER AS EARLY AS SAME DAY*
Turquoise bracelet
I discovered Mbeadsjewelry this year and fell in love with her collections. Not only are the pieces of jewelry beautiful, they are also affordable! Without forgetting quality. The Mia bracelet features a paperclip chain and a string of pearls; the best of both worlds. The bracelet's length can also be adjusted. 
Materials: High quality 18k gold filled chain & freshwater pearls
Length: 7.5 inches, adjustable
*FOR A LIMITED TIME ONLY: enjoy free local delivery to the Island of Montreal, Longueuil and cities sharing a border with Longueuil, with the purchase of any Self-Care product! Use the code FREESELFCAREDELIVERY at check-out*
*please note that although we have opted for a gold filled chain - as opposed to a gold plated chain - since it contains 100x more gold, bracelets worn on a daily basis are exposed to a lot of wear and will discolor over time (as opposed to necklaces and earrings which are exposed to very minimal/no wear). The best way to preserve the color for as long as possible, is to not wear it on a daily basis/take care of it and avoid exposing it to any wear such as: creams, perfumes, bathing/showering, rubbing agaisnt other things, etc.*
------
*MAINTENANT DISPO EN INVENTAIRE - PEUT ÊTRE EXPÉDIÉ/LIVRÉ AUSSITÔT QUE LA MÊME JOURNÉE*
Bracelet Mia
J'ai découvert Mbeadsjewelry cette année et je suis tombée en amour avec ses collections. Ses bijoux sont non seulement beaux, mais ils sont abordables aussi! Sans oublier la qualité. Le bracelet Mia est fait d'une chaine "paperclip" et d'une rangée de perles. C'est aussi possible d'ajuster la longueur du bracelet. 
Matériaux : Chaîne en Or rempli 18k de haute qualité & perles d'eau douce
Longueur : 7.5 pouces, ajustable
*POUR UN TEMPS LIMITÉ SEULEMENT: avec l'achat d'un produit de la Collection Bien-Être de Turquoise's Treasures, profitez de livraison sans frais à l'île de Montréal, Longueuil et toutes les villes qui partagent une frontière avec Longueuil! Utilisez le code FREESELFCAREDELIVERY lors du check-out*
*SVP noter que même si nous avons opté pour une chaîne remplie - versus une chaîne plaquée - vu qu'elle contient 100x plus d'or, un bracelet qui est porté à tous les jours est exposé à beaucoup d'usure et perdra sa couleur après un certain temps (versus les colliers et boucles d'oreilles qui ne sont pas exposés à beaucoup d'usure quand portés). La meilleure façon de conserver la couleur pour le plus longtemps est de ne pas porter le bracelet à tous les jours/d'éviter de l'exposer à des choses comme: les crèmes, les parfums, les bains/douches, de le frotter contre d'autres items, etc.*
Mbeadsjewelry: https://mbeadsjewelry.com/
To read more on gold filled jewelry:
https://www.halsteadbead.com/articles/gold-filled-vs-gold-plated
https://gldn.com/blogs/journal/what-is-14k-gold-fill